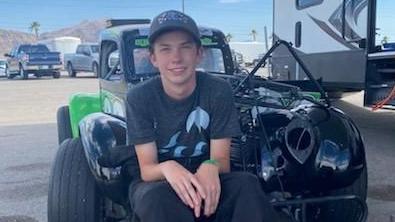 [ad_1]
BUTTE – Brendan Tracy was 10 when he first raced. Six years later, he seeks to run in front of his father for the first time in Montana and to benefit the Children's Heart Foundation, a cause close to his heart.
The 16-year-old is from Las Vegas and has worked his way up the ranks in the race. He started driving go-karts in Las Vegas and recently joined the Legend car division.
While his dream is to compete at the highest level of the sport, he has a much more personal goal this summer in Montana.
"I raced here in Vegas with my mom and stepdad. My dad never saw me driving a racing car," Tracy said. "My father's family side lives in Montana, so it's a more sentimental thing."
Tracy, who spends her summers in Anaconda with her father, was delighted to hear that a race would be held in Polson on July 17th. Participating in the race would allow his father to watch him in person and also help him gain experience. on new tracks.
While the idea of ​​running in Montana seemed like a no-brainer to Tracy, the road to Polson was not easy. Unable to take his car to Montana, he has to rent one for the race and also cover the extra expenses to participate.
"To get to this race I have to rent a car. I'm also thinking about six thousand dollars in terms of money," Tracy said. "And I hope to reach my sponsorship goal to help me get there."
In addition to the funds needed for travel and participation, Tracy must find Montana-based sponsors in order to compete. Her father and aunt, Tim and Sara Tracy, noticed Tracy's needs and quickly reached out to the Montana community.
Tim and Sara Tracy on Tuesday kicked off a GoFund Me fundraiser (https://gofund.me/8caad025) for their son, which has already raised over $ 200. Brendan Tracy said he was speechless knowing that people, friends and strangers alike, were supporting his mission.
"I wasn't really aware (of fundraising) when it happened, but I am now," Tracy said. "I'm delighted, speechless to see the support. It's something I never thought would get together, now I have a journal calling me and asking me questions."
As Tracy would benefit from donations from the Montana community, he did not hesitate in his own act of giving and supporting the Las Vegas-based Children's Heart Foundation.
Just as Tracy's family helped him develop a love for running and pushed him to compete in Montana, it was her family who showed her the importance of heart health from her childhood. .
"My sister was born with heart disease," Tracy said. "I wanted to be part of the Heart Foundation for her, it's a cause that I really wanted to support for the rest of the year. And I think I'll continue my career."
Tracy's sister, Riley, was born with pulmonary stenosis, a condition that required surgeries at different stages of life. Thanks to medicine, however, the effects became less dangerous for life.
Tracy said his hope is to climb to the top of NASCAR, but that someday traveling with a very late model team is how he planned to measure his success. While still very young, he seems to be on the right track.
Over the past three years, Tracy has won 11 track wins, including two in Tucson, Arizona, on a track he had never seen before his first competition there. He traveled to Wyoming and Nebraska for races where he returned home with two top-5s.
Success was not always there for Tracy, however. In fact, it was his poor outings early in his career that drove him to keep improving, competing and playing the sport.
"When I was ten years old we went to the go-kart track here in Vegas," said Tracy. "For the first race let's just say it didn't go well. A lot of people would give up at that point, but it wasn't an option for me. It wasn't really a let go and I knew that was what I wanted to do. "
Tracy also said racing has been "in her blood" for a long time. Her first memory was seeing Carl Edwards hit a fence at Talladega in 2009. Edwards stepped out of the wreckage and the impressive safety of the cars pushed Tracy further into the sport.
Running has become a passion, a career and a family-centric aspect of Tracy's life, which he hopes to bring to Montana this summer.
"I loved the speed, the sound and the smell, really it was all interesting," said Tracy. "I fell in love with it from the first moment and now I'm chasing the dream."
[ad_2]