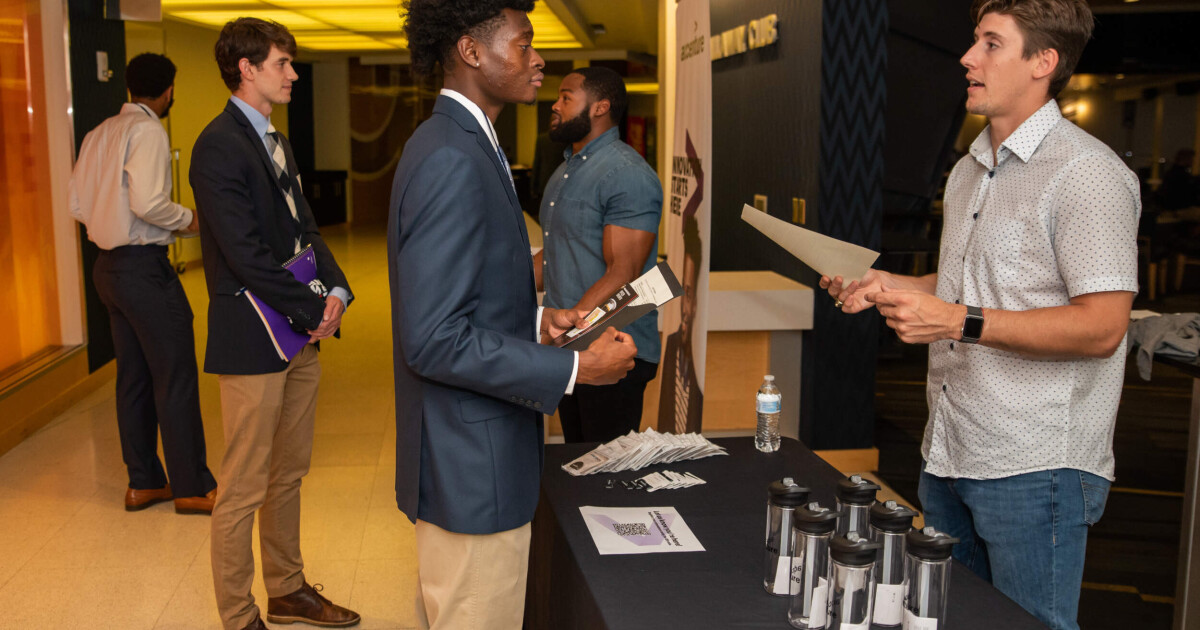 [ad_1]
THE APARTMENTS – On Monday night, Georgia Tech student-athletes had the opportunity to look beyond the playing surface at the annual GTAA career fair. The event, held at the McCamish Pavilion, hosted 27 companies offering internships and career opportunities in various industries.
The event is designed to help student-athletes find jobs and internships for the coming year, as well as prepare student-athletes for the job interview process. Last week, a virtual career fair was also offered to student-athletes which featured 15 companies. Between the two options, more than 170 student-athletes participated in the career fairs.
Among the companies present Monday evening:
Accenture
Amazon
Atlanta hawks
Luminous mark
South Control
Despoco
RMR Construction
Eaton
Corporate Holdings
Living Gallery
Georgia Pacific
DG
GTRI
Honeywell
incidentlQ
I Dunn
Lutron
Marketwake
Matthieu Real Estate Investment Services
RCN
MDU1
Piedmont Group
Sterling seacrest
UPS
AMERICAN MARINE BODY
Waffle restaurant
Several companies participated in the virtual job fair, including:
Accenture
Anthem
Luminous mark
South Control
Deposco
RMR Construction
Home deposit
Lutron
Norfolk South
Northern Haute-Terre
North West Mutual
Rock Central
Sherwin Williams
Sad
AMERICAN MARINE BODY
Alexander-Tharpe Fund
The Alexander-Tharpe Fund is the fundraising arm of Georgia Tech Athletics, providing scholarships, operations, and facility support for Georgia Tech's more than 400 student-athletes. Participate in the development of Georgia Tech's Daily Champions and help the Yellow Jackets compete for championships at the highest levels of varsity athletics by supporting the Support the Swarm Fund, which helps Georgia Tech Athletics overcome the significant financial challenges associated with Covid-19, and the Annual Sports Scholarship Fund, which provides scholarships directly to Georgia Tech student-athletes. To find out more about support for yellow vests, visit atfund.org.
For the latest information on Georgia Tech Yellow Jackets, follow us on Twitter (@GTathletics), Facebook, Instagram or visit us at www.ramblinwreck.com.
[ad_2]