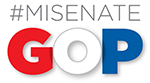 [ad_1]
LANSING, Michigan – State Senator Ken Horn released the following statement on Thursday regarding the Michigan House of Representatives passing a law banning short-term rental bans.
"I was surprised to hear about the urgency of passing short-term rental legislation in the House. It reminds me a bit of the Lame Duck session where we tell ourselves that nothing good happens after midnight.
"As far as the Senate is concerned, I will be working with stakeholders on both sides of this issue. I will include the conversations we have had with our food and accommodation industries and local government units to come up with a more balanced solution.
"I will wait and see how this plays out in the Senate and I will work with Senate leadership to see what the Senate's timetable might be on this matter – but at any time I am ready to testify before my committee on the draft. Senate Law 547, an alternative that I presented earlier this year.
"The short-term rental industry is a large and rapidly growing business enterprise in Michigan, but we can't leave our helpless friends and neighbors wondering who is going to live next door on any given weekend.
"As far as our local communities are concerned, I hope we take as much urgency in resolving the middle class housing crisis in Michigan. Our friends and neighbors across the state need to know that they have a place to live in a stable and secure community where they can feel at home. "
###
[ad_2]