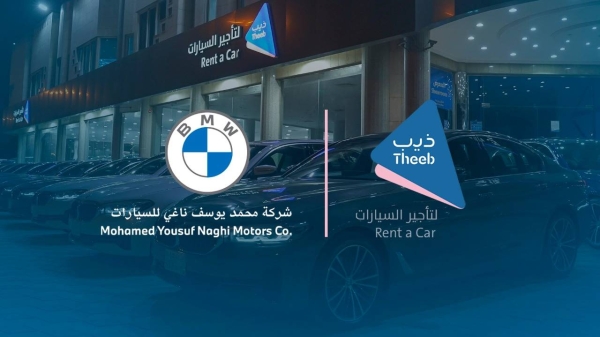 RIYADH – Theeb Rent a Car Company has announced that it has received the first fleet of the new 2023 BMW 5 Series, which recently hit the road, from Mohamed Youssef Naghi Cars Company. This fleet will open a series of new expansions across the Kingdom as the company aims to improve and upgrade its services to meet the growing demand for premium car rental services.
The expansion also stems from Theeb Rent a Car's attempts to update its fleet of cars periodically and continuously. Many presences from both sides were present for the signing of the supply agreement, which was set up by Mr. Hamad Alrajhi, Director of Purchasing and Warehouses at Theeb Co., and Mr. Khaled Hassan, Director of sales at Mohamed Yousef Naghi Motors Co.
On this occasion, Purchasing and Warehouse Manager at Theeb Rent a Car, Mr. Hamad Alrajhi, said: "The new 2023 BMW 5 Series fleet will be an added value to our Class A fleet, which is in high demand by our customers. clients. This step also responds to the company's strategy to develop and update its fleets periodically and continuously, to meet the needs of customers who seek comfort and luxury.
According to Alrajhi, the first fleet is being prepared for deployment to a number of company locations across the Kingdom. He also explained his pleasure in Theeb's partnership with Mohammed Yousef Naghi Motors Co., BMW's official supplier in the Kingdom.
Theeb Rent A Car is one of the largest and most pioneering companies in the car rental industry. The company includes a wide range of solutions and services for vehicle rental through long and short term rentals. Also, it includes a large base of customers from different categories and industries, as well as individuals. In addition, the company has accumulated experiences of more than 30 years where its activity has started in the field of car rental since 1991 with more than 24 thousand vehicles.