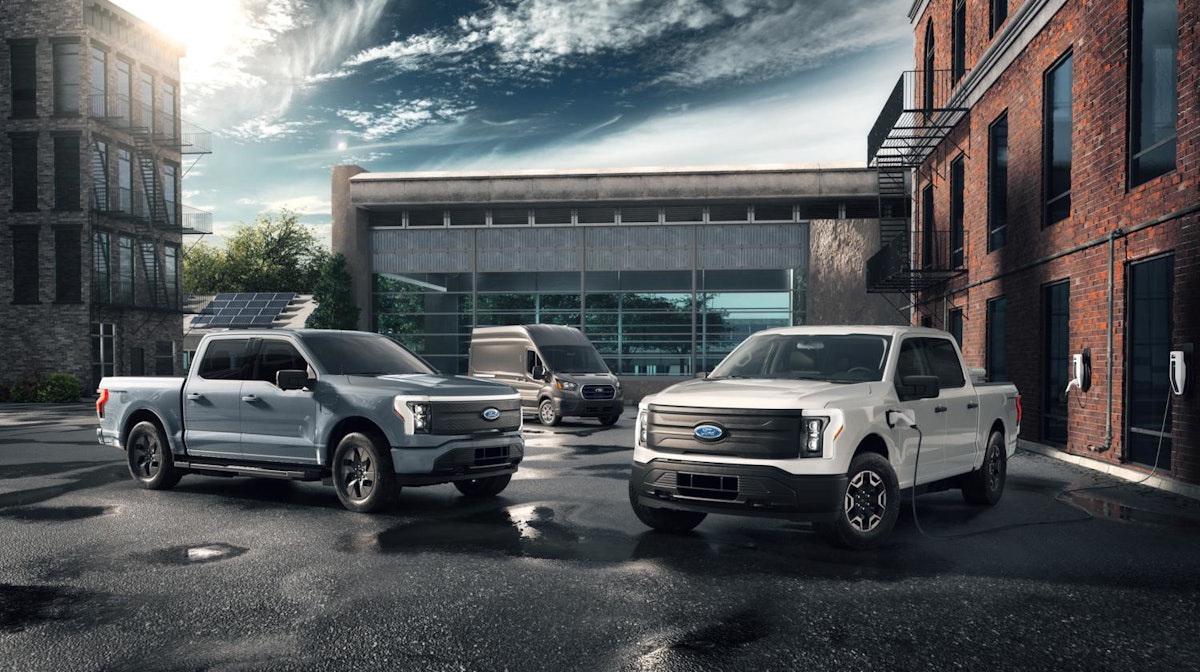 Sunbelt Rentals and United Rentals recently added F-150 Lightning Trucks to their fleets.
Sunbelt Rentals announced plans in April to add 700 electric trucks to help the company reduce its greenhouse gas (GHG) emissions by 35% by 2030.
Similarly, United Rentals announced in May that it would incorporate 500 F-150 Lightning trucks and 30 E-Transit vans in its North American fleets, with 120 trucks and all 30 vans to be delivered in 2022.
The leaders of the two companies explain the decision.
Sustainability goals
Both rental companies purchased the electric vehicles for their fleets to become more sustainable organizations.
"Sunbelt Rentals has a carbon intensity reduction goal that comes with a commitment to lead the movement toward electrification of our fleets and to fight for environmental stewardship," said Eric Jahnsen, Transportation Fleet Manager, Sunbelt Rentals. "This investment will also benefit the total cost of ownership of our fleets in the long term, as electric vehicles are less expensive to maintain in the long term."
United Rentals said it has set a target to reduce its scope 1, 2 and 3 emissions from outdoor transportation by 35% by 2030 compared to 2018.
"Our largest source of Scope 1 emissions comes from our sales, service and delivery fleet. Having a fleet rotation plan for these vehicles will help us achieve our goal," said Grant Zoldowski, director of environmental management at United Rentals. "Benefits include shifting our emissions from direct fuel combustion to using power from the electric grid, which emits less GHGs. Additionally, early feedback indicates that the vehicles are quieter and more efficient. "
Zoldowski adds that when calculating the useful life of an internal combustion engine asset, the limiting factors are usually related to the transmission because these components are the most expensive to replace, but with an electric vehicle, the only part. costly to replace is a battery, which should last much longer. Plus, fewer parts mean less maintenance, lower costs and less downtime.
On the other hand, some of the initial challenges of implementing electric trucks include finding charging infrastructure, power availability and limited range, so it is important to introduce electric vehicles to a market. who can support them, according to Zoldowski.
What to expect
For other rental companies looking to make a similar transition, Zoldowski and Jahnsen recommend ensuring the market can support electric vehicles with the right infrastructure.
"While the cost of electricity is less volatile than that of gasoline and diesel, making it easier to budget vehicle running costs, there are pricing considerations to keep in mind," says Jahnsen. "Opportunity charging will be a key factor in a fleet's ability to adopt electric vehicles. Operators of these vehicles will need to change their normal thinking of filling up with gas when the gauge reads a quarter full and switch to a mindset of plugging in when there is They also need to consider the speed and duration of the battery charge: slower charges are better to prolong its life, the charge does not drop below 20% and not more than 90%.
Rental companies should also look at how the brand supports the value chain of the operation (charging, powering, maintenance, etc.), says Zoldowski.
Jahnsen agrees.
"Consider how the vehicle will be serviced and whether there is local support from the OEM," says Jahnsen. "Can we count on OEM and parts to still exist for the electric vehicle next year or even in 10 years?
Look forward
In the future, United Rentals and Sunbelt Rentals plan to incorporate more sustainable options.
"The trend isn't going to be limited to the rental industry. We're seeing it in large retail, petrochemicals and other industries," Zoldowski said. "We plan to continue to keep our options open. Electric vehicles are definitely hot right now, but we're also keeping an eye out for alternative technologies."
Sunbelt Rentals has other plans for electric vehicles: battery electric, fuel cell electric, plug-in hybrid. The company also offers its customers energy storage solutions with load capacity.
"As we improve our electric infrastructure and public infrastructure continues to grow, we will be able to accomplish even more growth in our electric vehicle fleet," Jahnsen said. "The movement towards a zero-emissions future cannot succeed without many companies making thoughtful, long-term commitments to new technologies. We are all in this together. No individual company can succeed alone."